May first in Montenegro is the laborer's day off.  They celebrate it in many ways.  We were invited to join in an annual hike hosted by the steel mill, beer brewery, alpine club and army veterans.  We were attempting to summit Vojnik, "Soldier Mountain", a 6500-foot high mountain of limestone in the  Dinaric Alps.  From the base it has an elevation change of 2700 feet.  Oh, yeah, bring it on!
So, we assembled in town at the old military headquarters (now abandoned) and caravanned up the highway north about 40 minutes to the trailhead.
Excitement was high as we assembled in the large, grassy meadow.  There were people of all ages and abilities.  The organizer, who leads the alpine club and has a rustic restaurant/cafe in town, supplied fresh breakfast rolls for everyone.  And after a brief speech we were all off.  I think the key message was "Follow someone who knows where they're going, don't get lost and there will be beer afterwards".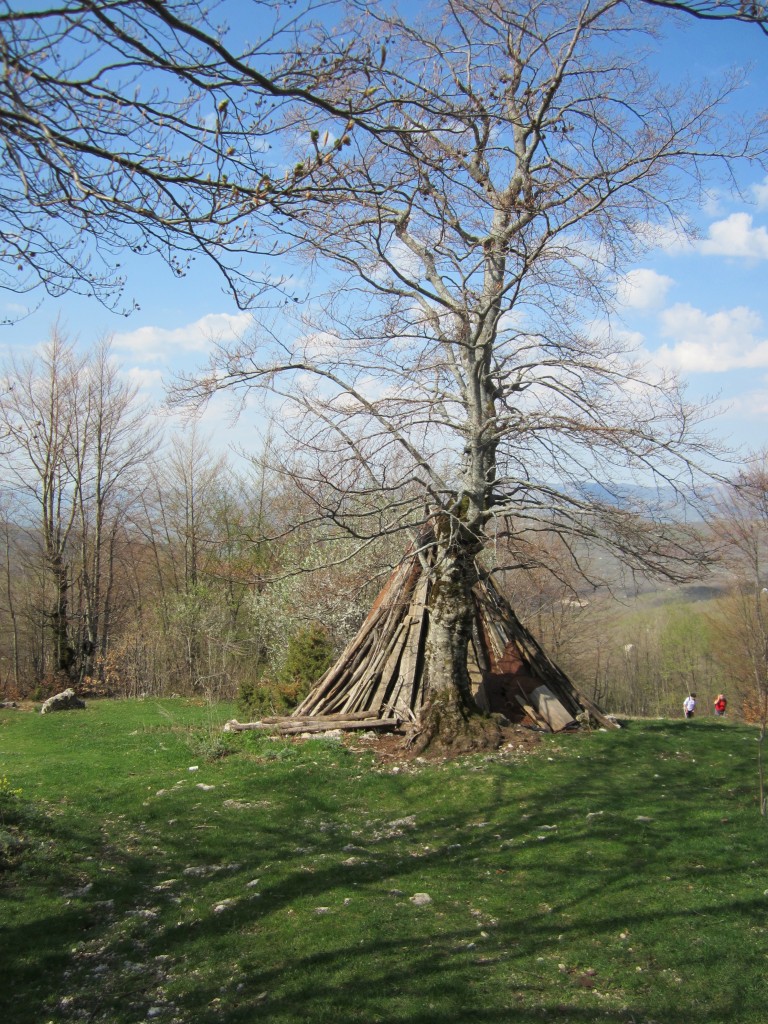 We initially followed an old logging road, direction UPWARD.  We took a couple rest stops at little meadows which serve as "camps" for shepherds during their summer season grazing.  (Think "Heidi".)  The second of these stops was to become the site of our post-hike celebration picnic.
There is no shortage of rocks in Montenegro.  To say the terrain was rocky is  an understatement.  We walked up, over and through every manner of rock imaginable, some even covered in grass, leaves and snow.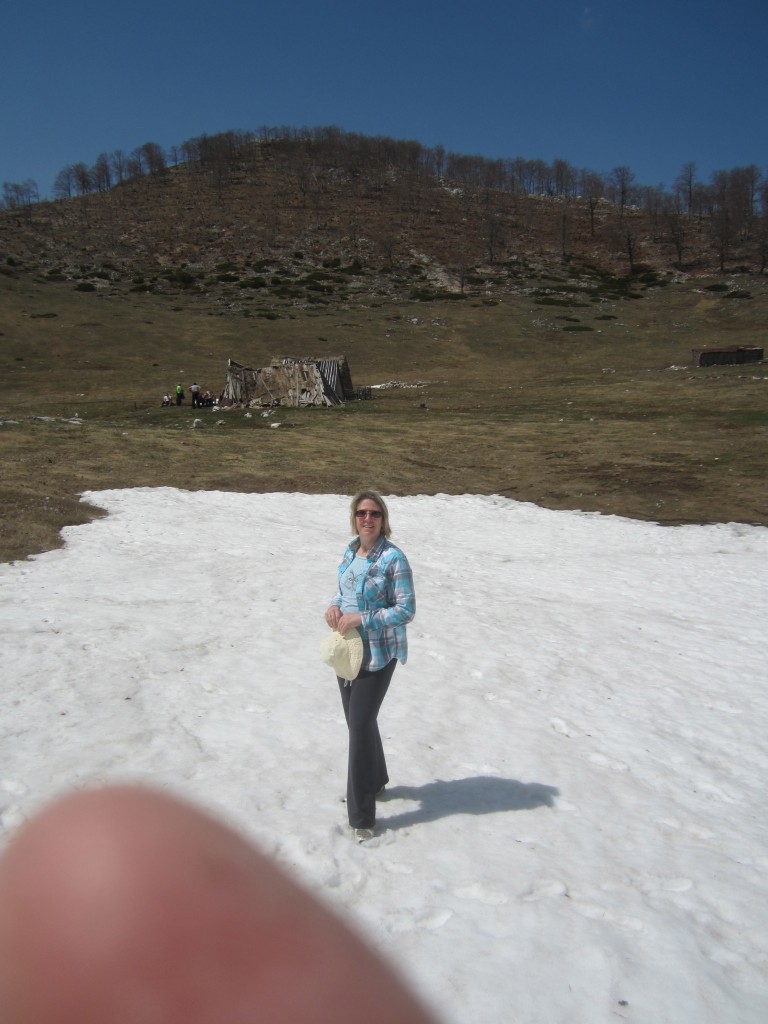 After an hour or so, the parties divided, and we went with the "easier" trail.  It looked easier for awhile and then we went vertical.  We started seeing snow along the side of the trail, and eventually had to trek through it.  This is wild country, no one comes along and trims the shrubs or berry vines back for you.  We reached what looked like the top only to find that there were three more ridges to traverse before we came to the summit. We followed what seemed like a deer trail along a very steep slope. Soon, it became no trail at all, just a general direction toward the peak.  It was breath-taking, meaning we were out of breath and wondering if we dared continue up.  That's about the time that the little alpine meadow below began to look so inviting.
So, along with Stan and Vicki and some other "mid-achievers" we rested in the "Heidi" meadow.  We filled our water bottles at the well, and made some new friends.  A foursome of university students came over to us, unfortunately they were not English majors at the university. One of the girls said she knew Spanish from watching "peliculas"and soap operas. I was surprised how quickly my Spanish came back to me, and we were able to talk about a number of things.  Soon the other three students joined in with English, which was much better than my Serbian, and we had some good conversations.  We even exchanged Facebook identities.  Their acquaintance was the highlight of our expedition, seeing the opportunities God gives us to connect with special people here.
We watched the many "high-achiever" hikers (from a distance) as they crossed the ridges and reached the summit.  Those who conquered the mountain got to enter their names on a ledger at the top.  We turned and began our descent on the old logging road. It was a long trip down, and quite steep.  What a relief to finally arrive at the meadow with the three 4-wheel drive vehicles and the little "camp" set up for lunch.
Ah, picnic Montenegro style!  Real dishes, real food, really tasty!  The army cook provided a tank of hot navy bean soup with big chunks of ham.  The brewery provided the kegs of cool beer, Niksic's claim to fame, and the alpine club provided the inch-thick slices of fresh bread.  There was also a well at the site for fresh water and washing up.  I was impressed that it was all done by the men, the ladies got the day off, how nice.
Our extended group was one of the last ones to return.  They had all been victorious in conquering the summit, we were proud of them!  Lunch was in progress, and everyone seemed to have hearty appetites
.