Hello, Mike here. On Monday it was a major construction event at the house.  Josiah, Mili and I had to vacate the school room and Vicki was crowded out of the kitchen for the day too.  It happened to be Mom and Dad's anniversary and so they declared it was an out-to-lunch day.  Lunch is the big dinner meal of the day here, served in the early to mid-afternoon.  So, we went to the Rio Rostilj Dva!
It's my favorite food place from our visit last summer with the "team".  The name basically means Rio Grill Two ("Two" because there is another one in Niksic.) Since the people here don't use street names very often, they can't say, "Hey! I'll meet you on the Jack in the Box on the corner of Las Posas". Things don't work that way here. So, if there is a chain of restaurants, they call one the first one, and the other, the second and so on. The food is delicious. It's grilled meat, with fries and grilled onions. There was one kind of sausage that had cheese in the middle and that was SO delicious! I've never had anything like it in the states. Very tender meats, and the bacon was about a half-inch thick.
The coke here comes in little glass bottles, but this time they served from cans. It was a short lived bummer, because then we got the main course. The mixed grill plate:  pork tenderloins, sausages, chicken. The fries are soaked through with oil, and better tasting than any fries I've had anywhere else. We also had a couple vegetable salads:  cabbage and tomato with cucumber, because the moms were with us.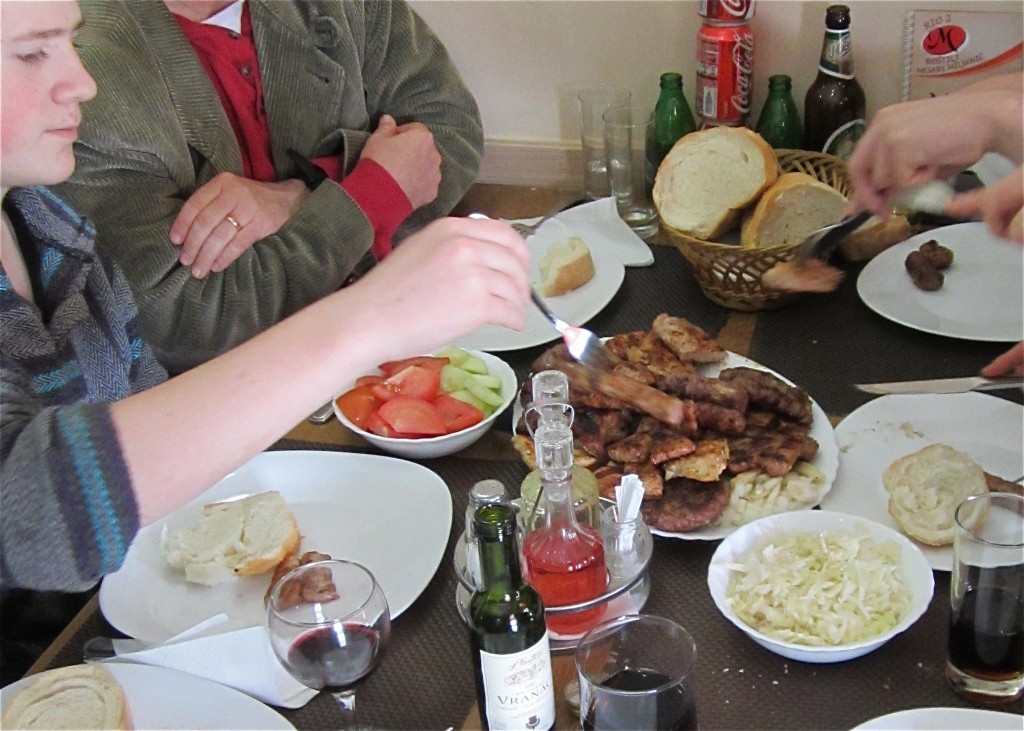 Incidentally, this is also the day of my parents anniversary. So, we had a double special lunch day!